The curriculum is a hands on approach to learning. It encourages children to develop their observation skills by doing many types of activities. These activities include use of the five senses, kinetic movement, spatial refinement, small and large motor skill coordination, and concrete knowledge that leads to later abstraction.
The curriculum also encourages a child to proceed at his or her own pace onto abstract thinking, writing, reading, science, mathematics and most importantly, to absorb his or her culture and environment. Culture includes interaction with nature, art, music, religion, societal organizations and customs.
The main goal of the curriculum is to provide a stimulating, child oriented environment that children can explore, touch, and learn without fear. An understanding parent or teacher is a large part of this child's world. The end result is to encourage life long learning, the joy of learning, and happiness about one's path and purpose in life.
-------------------------------------------------------------------------------------------------------------------------------------------
Our Objectives
Cognitive:

Cognitive development involves the way children think, develop understanding about the world, and use what they learn to reason and solve problems. They use all their senses and motor skills actively to construct their own understandings about the people and objects in their environments

Personal Social and Emotional:

Young Children's social-emotional development involves the way they feel about themselves, their understanding of feelings, their ability to regulate emotions and express them appropriately, and their capacity for building relationships with others.

Creativity:

Children's responses to what they see, hear and experience through their senses are individual and the way they represent their experiences is unique and valuable

Senso-motor skills that include development of senses

(sense of dimensions, sense of hearing, sense of smell, sense of taste, sense of weight etc.) and motor skills that include both fine motor skills (like tying shoe laces, dexterity in placing objects at their respective slots) and gross motor skills (like climbing).

Language and communication:

Children pass through specific stages in the acquisition of language. From cooing, babbling to single words they start structuring more complex sentences. To be able to achieve this they need to be helped and guided to achieve certain goals like develop fluency, ability to speak, Correct usage of words, express themselves with appropriate emotions, to be able to name, classify and describe to organize their thoughts etc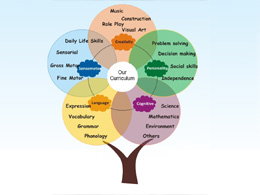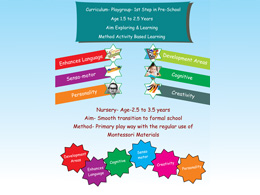 -------------------------------------------------------------------------------------------------------------------------------------------
Our Approach
Ensuring that all these aspects are given adequate attention and focus. We understands that the brain development of the young child is directly related to the extent that the child works with their hands and uses their senses. More they use their senses and motor skills, the faster they develop and hence we do not encourage the use of technology as it tends to dull the child's mind and sometimes has a detrimental effect on the overall development of the child.
Curriculum, materials, teacher training and assessment are all tightly integrated and go hand in hand in ensuring that there is no disconnect between what the objectives are and how to meet them.